FAIRLINGTON VIRGINIA TOWNHOMES FOR SALE AND SOLD REPORT TO AUGUST 31ST, 2017
Posted by Norma Skeete on Monday, September 18, 2017 at 5:24 PM
By Norma Skeete / September 18, 2017
Comment
Fairlington VA Townhomes for Sale and Sold Report to August 31, 2017 shows Total Sold Dollar Volume of $1,249,200 representing a 58.05% decrease over the August 2016 figure of $2,977,600.
There was a major drop of 72.8% in the month-to-month figure - going from $4,600,200 in July 2017 to a mere $1,249,200 in August 2017!
Although there was an increase in inventory from zero in July 2017 to three (3) in August 2017, the sellers' market shows no sign of letting up with just half a month's supply of townhomes for sale.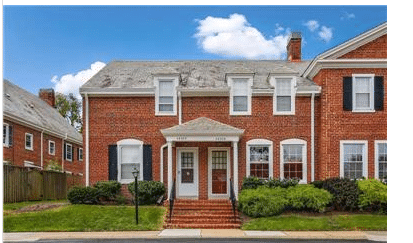 Fairlington VA Townhome
CLOSED SALES FOR FAIRLINGTON VA TOWNHOMES
There were three (3) closed sales in August 2017 compared to July's ten (10), representing a decrease of 70%.
MEDIAN PRICE FO FAIRLINGTON VA TOWNHOMES
The median price of townhomes sold in August 2017 was $464,400 down 0.4% from July's $466,200.
FAIRLINGTON VA TOWNHOMES AVERAGE TIME TO SELL
It took an average of six (6) days to sell a home in August 2017, a decrease of 76.9% from the twenty-six (26) days that it took in July, 2017.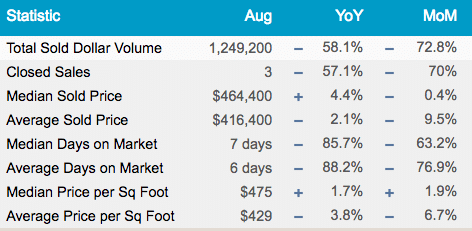 TAKE AWAY FROM FAIRLINGTON VA TOWNHOMES FOR SALE AND SOLD AUGUST 2017 REPORT
The sellers' market is as entrenched as ever with inventory a mere 0.5 month's supply for August 2017 down from 1.2 months in July 2017.
Average Sold Price decreased by 9.5% while the Median Sold price suffered a much smaller decline of 0.4%. With days on market decreasing to six (6) days from twenty-six (26) days the prior month, a 76.9% decrease plus the very low inventory of only a half month's supply means the sellers' market is still as strong as ever. Now is definitely a good time to put your home on the market!
FAIRLINGTON VA TOWNHOMES FOR SALE
Search for Townhomes for Sale in Fairlington Virginia
Need to sell before buying your Fairlington VA townhome? Find out What Your Home is Worth here.
Contact Norma Skeete at 703-920-0003 if you are ready to buy or for any real estate need.